To begin the mapping process, you must first select which spots you would like to be added to the patient's 3D Body Map. Depending on the body part image, DermEngine offers two methods for mapping: Automatic (back images) and Step By Step (all images including back).
1. Automatic Mapping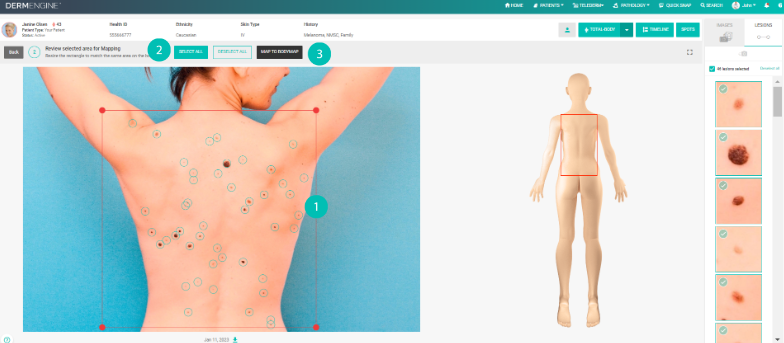 Adjust the red box to accurately reflect the rectangle on the 3D body map.

Select/deselect lesions to be mapped. This can also be done for individual lesions by directly clicking them. All detected lesions will be automatically selected for mapping.

Automatically map lesions to patient's 3D body map.



Submit results.

Adjust selected lesions and re-do mapping process.

2. Manual Mapping
Click the ctrl/cmd key and hit the + key then select all lesions you would like to map.

Start mapping.

Take an overview or dermoscopic image with your mobile device on the DermEngine app.



Place each lesion to corresponding new or existing spot on the 3D body map.

To relocate the lesion, click Undo a spot's placement. If the pop up disappears, click the same spot again on the left image and place the lesion on the body map.

Save changes.